THE AMBER SYRUP IS THE MOST FLAVORING
Historically, in popular belief, products on the left of the spectrum have always been considered better because they are clearer and more pure. The light syrup was rated A and the very dark D. As in school, A was considered superior to B or C.
To correct this confusion, a new classification was introduced in Quebec a few years ago. Today all maple syrups are grade A. This name varies depending on the color of the syrup (from very light to very dark).
Of course, with all tastes in nature, you may prefer a clear syrup. On our side, we are convinced that an AMBER syrup is tastier and pays more homage to the delicacy of the product.
Part of the confusion stems from the fact that before technological advances it was very difficult to produce clear syrup. Rarity was a guarantee of quality. Today the opposite is happening. The technology makes it easy and inexpensive to produce a clear syrup.
The water that flows from the maple is transparent and not very tasty. How do you manage to produce a colorful and tasty syrup? There are two main reasons: Bacteria and caramelization.
Let's see the role of bacteria first :
The sugars in maple water are sucrose and sucrose. These are heat resistant sugars. Bacteria must be present to transform these two sugars into fructose and glucose which are much more sensitive to heat and which will turn brown (caramelize) during evaporation.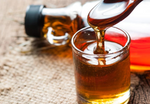 Rest assured! These bacteria are present naturally and are essential for the formation of syrup. In this respect, syrup is no different from wine or bread with their yeasts, or cheeses with their bacterial cultures. All these local products involve microorganisms. It's life!
Then comes the caramelization :
It occurs under the influence of heat during evaporation. Maple water must remain in the evaporator for a while to have time to transform and acquire its delicious properties.
How easily can you make a clear syrup today? It's simple. By further concentrating the maple water through the process of reverse osmosis. Water can enter the evaporator at 20%, 25% or even 30% sugar instead of the natural 2%. When you know that at 8% sugar water is already three times more concentrated (1000 gallons of 2% water equals 250 gallons of 8% water plus 750 gallons of pure water) imagine what 'it remains to boil if you concentrate more.
Of course there is a considerable gain for the producer to concentrate more. The heating costs, which are important, are then lower. On our side we believe in the balance of things. We must respect nature and let time do its work. Fingering and finesse are also part of the process.
AMBRÉ syrup, a local product made by passionate artisans!